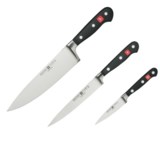 Closeouts. Precision forged by hand from a single blank of high-carbon stainless steel, Wusthof's best-selling Classic Cooks knives are the preferred choice of many professional chefs and cooking enthusiasts.
Average Rating based on
63
reviews
4.777777
0
5
Reviewed by Pacific Northwesterner from Washington on Wednesday, February 19, 2014

These are the best knives at an unbeatable price.

Reviewed by Frugal Shopper from Minnesota on Wednesday, January 29, 2014

I have had my original Wusthof knife sets for over 30 years. I thought it was time to purchase a set for my lake home. These knives are very sharp, comfortable to use, long wearing and are guaranteed for life. If something should prematurely wear, Wusthof replaces the item for free.

Reviewed by Jenny from NC Foothills on Monday, January 27, 2014

I can't believe I've waited so long to upgrade my kitchen knives! I decided to start looking for better quality knives after spending a couple of long weekends in the kitchen over the holidays. My "old" knives were beginning to wear on my wrists. These knives handle so well- perfect weight and very comfortable. I giggled with delight slicing that first onion. This is an purchase that will payback for years to come. Thanks Sierra Trading Post for carrying this brand.

Reviewed by Live4Winter from Oregon on Thursday, January 16, 2014

Pros: Wusthof knives came sharpened to a nice edge; Wusthof stands behind their product; Excellent set to tackle almost any job in the kitchen(yes other knives like a full 9' carver could be better in an instance, but you can definitely make do with this set); The knives have a great balance, feel and weight in every task that I've used them; They hone easily with a nice steel; and finally they just look good and got here when they were supposed to.

The cons: (Which are knit picky, but yet, when you invest in a product like this, out of the box they should be perfect) The edge: Most users wouldn't notice, but a trained I/feel could tell that the edge was not sharpened perfectly consistent; The "seamless" fit was not seamless, on the paring knife they neglected the rivets, there is a tiny gap, and on the following knives i noticed similar areas where the handle was not quite seamless. And note to future buyers, this item is not packaged well, and may shift out of its slots on its way to you. One of the handles received a small ding in the plastic because of this. Also the bolster in my preference is annoying, but manageable(Mostly effects sharpening)

Overall, I would absolutely recommend these knives to anyone looking for a decent knives that aren't going to completely break the bank. They are an excellent product that will last a lifetime if you take care of them. Other than a few minor picky short comings, these knives are amazing and well worth the cost, i would have rated five stars if not for the seamless fit issue.

The take home message: Replace your [...] knives and buy these knives (with the dealflyer helps!)

Reviewed by Jonadan the Kim from New Jersey on Thursday, January 2, 2014

If I could, I'd give this product 10 stars, or even 20. I bought these knives for my boyfriend for his birthday, we are both in college and have recently gotten very involved in cooking. We did much research and found these to be the best cooking knives (we watch Food Network and virtually everyone uses these knives) and, we were definitely impressed. They are nothing short of amazing! They cut through everything like butter, it makes cooking such a breeze, they are easy to handle, and I've heard they last for forever, judging from everyones reviews on here. I only reccommend these knives, they are lifesavers and make cooking that much more enjoyable. I will never own any other knives other than Wusthof. Also, this set is a GREAT price for what you are getting! Absolutely amazing. 10 stars if I could.

(rokki512@nate.com)

Reviewed by DiaS from Colorado on Tuesday, December 31, 2013

These knives were purchased as a gift for a well seasoned cook who has reported back to me that they are the best knives she's ever owned!


Reviewed by Donna the Cook from Texas on Friday, December 27, 2013

These are the best knives on the market as far as I'm concerned. I have several just like them that I've had since I got married 45 years ago and they are just as wonderful as new ones. I expect these new ones to be passed down to my children and theirs in the years to come.

Reviewed by andy from delaware on Sunday, November 17, 2013

one of the greatest knives ever made. Would recommend these knives to anyone.

Reviewed by Annie the Runner from Connecticut on Thursday, September 5, 2013

The balance of these knives was off so I returned them.

Reviewed by Kolo wisi from Colorado on Monday, July 22, 2013

These are high quality knives and the set comes
with three useful sizes. It was just what we needed.