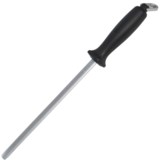 Closeouts. Harnessing the natural abrasive qualities of diamonds, Wusthof's 9" industrial diamond-steel knife sharpener reshapes and restores the edges of dull cutlery.
Average Rating based on
49
reviews
4.775510
0
5
Verified Buyer

Reviewed by skyblue from Arizona on Tuesday, July 14, 2015

works good but need more time tp evaluate how long it lasts

Verified Buyer

Reviewed by Tabita from Santa Fe,NM on Wednesday, April 1, 2015

This is a wonderful knife sharpener. It turned my old dulled knives into new ones again.

Verified Buyer

Reviewed by Frank from Maryland on Friday, December 5, 2014

This appears durable, and sharpens knives quickly

Verified Buyer

Reviewed by fisherman13 from Calif on Wednesday, July 30, 2014

I was thinking that this was going to be too small for my knifes, but after receiving this product, I changed my mind. It is just right sized, and is more aggressive when using G it on my knifes. Wusthof has done it again. Awesome honing steel.

Verified Buyer

Reviewed by pburner from Wisconsin on Thursday, May 15, 2014

Bought a little handheld gizmo highly rated on amazon a while back to sharpen knives - it works ok, but nothing to get excited about. Years ago I had a Chicago Cutlery sharpener similar to this and thought I'd give this Wusthof a try, especially at the STP price. Glad I bought this. It has a slight learning curve to it - important to properly angle the knife to sharpener, but it is more intuitive to do and my knives have a much sharper edge. It's a keeper.

Verified Buyer

Reviewed by AnnaLaurie from AZ on Friday, May 2, 2014

I like the ovoid cross section of this sharpener. It's very easy to use, and it is what I consider to be a 'rough cut' - to be used to quickly sharpen knives before using a finer whetstone for a smoother edge. BUT I can imagine just stopping with this for a sharp fast-cutting edge to your knives.

Reviewed by Alex from Atlanta on Monday, March 24, 2014

Its definitely worth the price. If you have a knife or tool with concave edge, this is what you need. Worked on straight edge, too.
Note: this is not a fine, but rather a medium grit sharpener.

Reviewed by sevendee3 from New York on Wednesday, March 5, 2014

Great product.......gets my knife very sharp!

Reviewed by Volodymyr from Lviv on Tuesday, February 25, 2014

The quality is very high! Now sharpen a knife can even woman. :)

Reviewed by Bob, an Iowa Walker from Iowa on Sunday, February 9, 2014

My wife and I have a collection of high-quality stainless steal knives that we have had for decades. Periodically, she attempts to sharpen them using a sharpening stone. The results have always been mediocre and short-lived. When my favorite bread knife failed to cut bread even after sharpening with the stone, I began looking for a better method.

The Wusthof Industrial Diamond-Steel Knife Sharpener was the answer to my quest. I found it on Sierra Trading Post's website at a greatly reduced price, below what it would have cost to replace any one of our knives. It arrived promptly (a day before promised). The instructions, printed on the sharpener's sheath, were simple and graphic. I took my bread knife and and moved it along the sharpener as directed. This was done about 12-15 times, after which the edge of the knife felt like a razor blade. I cannot remember the last time this knife was able to slice as effortlessly as it does now. I then used the knife sharpener to sharpen the other knives in our collection with equally positive results.

Another excellent product sold and delivered by STP. I highly recommend this product for sharpening stainless steal kitchen knives.