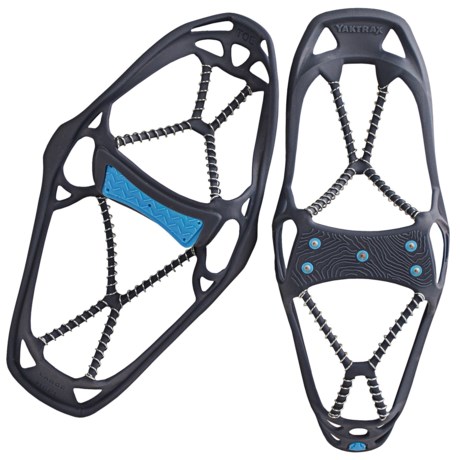 No way to adjust for size. I wear a woman's 8 or 8.5 and the small is fine for me. If I wore a larger shoe or maybe had a heavy boot, it would just stretch more. I would assume that if you were close to the either of the size range, you might have a problem with them slipping off because they were too big or possibly pulled too taut.



There is no adjustment for size. They are rubber and stretch to fit over your shoe. You should order the size range that you wear in the shoe or boot that you are going to put them on. They stay on quite well and don't seem to stretch out.

The frame of the Yaktrax is made of a flexible, rubber-like material that stretches. It is easy to stretch
the Yaktrax over your shoe or boot...and very easy to take them off. There is a lot of stretch in this
frame material, so Yaktrax will fit a wide variety of sizes of shoes and boots.

They are made of rubber so can stretch over shoes to accommodate a range of sizes. Since this is their walking brand, you can verify the sizing information on the Yaktrax website (https://www.yaktrax.com/product/walk#).

You can also see the size suggestions supplied by Sierra Trading Post by clicking on the sizes available (Small, Medium, Large). The cooresponding shoe size will then display above.

click on the size and it will tell you M and F sizes that it fits.