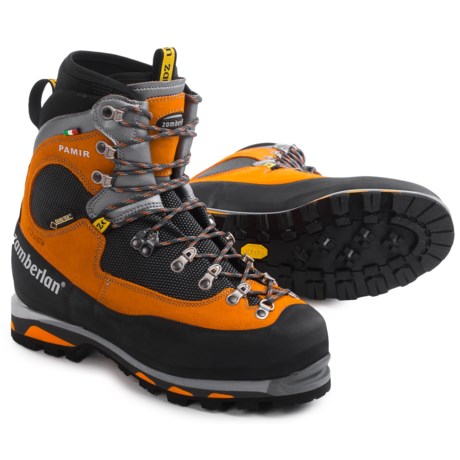 i tried to look into this. there is not much data out there. you can go to the Zamberlan website and find the technical page here
http://zamberlanusa.com/uk/tecniche.html
on the lower page they discuss the different lasts and fits for Zamberlan boots. but you still have to do some research because it is not often obvious which last is in which boot. the crampon rating for zamberlan's is also on this page.
general info regarding crampons i got this here
http://www.gooutdoors.co.uk/expert-advice/crampon-guide

B0 Rated Boots

BO refers to boots that are not crampon compatible, such as very flexible, fabric based hiking or walking boots.


B1 Rated Boots

B1 refers to flexible boots that will fit C1, or flexible crampons only.


B2 Rated Boots

B2 refers to semi rigid boots that will fit C1 or C2 crampons (flexible or semi rigid.) These are ideal for summer routes and low level snow based routes but not ice climbs.


B3 Rated Boots

B3 refers to rigid boots that can fit C1, C2 or C3 crampons, and are suitable for highly technical Alpine climbing routes. Usually very stiff, these can be made from leather or plastic and are very heavy. They come with stiffer soles and supportive features for front pointing en route. Insulation is usually common in B3 boots, but they are far too heavy for simple summer routes.
so let's take the Pamir's
on the product page it says
MADE IN: ITALY
UPPER HYDROBLOC® PERWANGER LEATHER/SUPERFABRIC®/MICROFIBER
UPPER PROTECTION R.R.S. "RUBBER REINFORCEMENT SYSTEM"
HARDWARE H.R.T. "HIGH RESISTANCE TREATMENT"
LINING GORE-TEX® INSULATED COMFORT
FOOTBED ZAMBERLAN® Z-THERMO FOOTBED
PADDING Z.A.S. "ZAMBERLAN AIR SYSTEM"
INSOLE/SHANK ZAMBERLAN DURAFLEX
TOE AND HEEL THERMOPLASTIC
SOLE PACKAGE VIBRAM® TETON + ZAMBERLAN® PCS + DUAL DENSITY PU WEDGE
CONSTRUCTION GTX BOOTEE
LACING SYSTEM TO-TOE
WEIGHT (GRAMS) 1,010
SIZES USA Men's 8 -12,13
CARE HYDROBLOC® PROOFING CONDITIONER
FIT
so the fit is
ZTEC
TECHNICAL FIT. Reduced volume in the instep area, downturned shape with medium asymmetry, higher volume in the foot flex point, pronounced heel to ankle line for a more technical fit.
and the crampon use is
PCS - Pro Crampon System
Pro Crampon System: Zamberlan's proposal for the fully automated crampon compatible footwear. It features a TPU insert in the heel and toe to which crampons are clipped onto an anatomical and full length TPU midsole and a light micro-porous wedge for cushioning and thermal insulation. It ensures overall light weight, greater stability, precision when climbing and complete torsional rigidity.
so if you do this for each shoe i imagine you will know more than the she salesmen.
i suspect the Pamir's are B3's.


I guess I'm going to find out, I just ordered the Pamirs, to go with my Jorasses, and Serai. All these are great boots for the price. For me the Zamberlins are the go to boots.