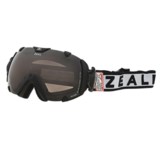 Closeouts. Zeal Eclipse SPX snowsport goggles deliver clear vision in any conditions, with glare-reducing polarized lenses and a lightweight frame that stays flexible in cold temperatures.
Average Rating based on
5
reviews
3.600000
0
5
Verified Buyer

Reviewed by BMW from Columbus Ohio on Tuesday, July 22, 2014

Quality durable polarized ZEAL goggles. Medium-Large is a proper size description. A barging when purchased at STP bonus discount prices. No doubt black is the male color of choice which is why they have an excess of white. But given the price I was able to get I was so happy with my first purchase that I've purchased two more pairs. When compared to the price of polarized sports sun glasses these are a value bargain. My male head size would be medium to large with a large nose/nostrils. These fit just fine on me with no excessive nose pinching. True when compared to cheaper single lens goggles that normally only have one layer of foam you may feel much more pressure on your nostrils but minor strap position adjustments fix that for me. As advertised •Polarized to reduce glare and alleviate eyestrain •Technothane frame is resilient, lightweight and doesn't lose flexibility in cold temperatures •Permanent anti-fog coating •Triple-density fleece foam wicks moisture •Includes storage bag


Reviewed by BMW from Columbus Ohio on Saturday, January 18, 2014

I wear a Large in a helmet and have what most would say is a medium/large nose with wide nostrils so I was very worried about common comments about "severe nose pinching". Still knowing the quality of high end ZEAL SPX and SPPX goggles and not knowing the ski experience level of the commenters I choose to purchase these goggles....I've skied with them 3 times now and find the "severe nose pinching" claims totally unfounded for me (and remember I'm the guy with wide-nostrils). Yes, there is a greater touching to snug nose fit. Anyone use to lower-end light goggles may find the more expensive larger goggles pressing against the nose more somewhat strange to annoying. But for me it's extra 3 layer foam (with one layer face wicking) wind blockage and warmth for my larger nose are great trade-off. And the Zeal OPTICS are excellent on this Google. This SPX version is best bought for Sunny day use, for those heavy dark overcast days the more expensive SPPX version is the one you need in flat light. At STP prices I can afford to purchase both pairs!! Always a good idea to try on several goggles at a Ski shop before buying. I had the same experience when I tried on high-end $150-$250 Oakley's at the Mall. My two pairs of 25 year old single (flat) lens SCOTT goggles w only one layer of cheap non-wicking face lining only rest on the bridge of my nose and doesn't have the extra thick padding layers to touch my lower nostril area. Bottom line: I'm very happy with these high quality goggles!!

Reviewed by aaronvmi from Colorado on Tuesday, September 17, 2013

Love the look and the lenses... however, as others have said these goggles are quite large and pinch my nose making it difficult to breathe,

Reviewed by perrymw from South Carolina on Saturday, March 2, 2013

Maybe it's just my face, but these goggles fit a little odd, too low on the nose, making it a little hard to breathe. Might be able to be adjusted, but I haven't been skiing with them yet. Not too impressed with the polarization. I was expecting an effect similar to that of polarized sunglasses, but I can't tell that they are polarized much at all.

Reviewed by JPF from West Virginia on Sunday, February 17, 2013

I purchased these because of the spherical shape and polorized lenses. They look great but they are exceptionally large. The problem that this creates is that they entirely cover and/or pinch the nose so that you cannot breathe from it and if you do, then you fog up the lenses. Five different people have tried skiing in these googles and every single one disliked them.

It should also be noted that Zeal marks certain goggles as "helmet compatible." These are not helmet compatible and rightly so as it makes the problem that much worse by pressing the goggles even more uncomfortably into the nose.

I would recommend these goggles to anyone with a large face as, for the price, it is a rather nice lense and design.