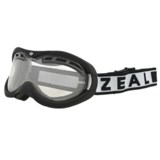 Closeouts. Zeal's Rapt OTG PX photochromic snowsport goggles block harmful glare, adjust to changing light conditions and are designed to fit over your prescription glasses to ensure crisp, clear vision.
Average Rating based on
10
reviews
3.600000
0
5
Reviewed by Steve Feuerstein from Bronx, NY on Monday, March 17, 2014

After extended research attempting to identify the best quality goggles for winter mountaineering, I finally came across this offer on STP. In short, I could not ask for more. This pair seamlessly sits over my prescription glasses and provides the necessary photochromic adaptation to varying levels of light. An all-around outstanding deal.

Reviewed by Snowboard Seth from Tennessee on Monday, February 24, 2014

I tried to kinds of goggles and these are my favorites. Easily fit over my glasses but don't feel bulky. A little fogging of the glasses but not bad.

Reviewed by frankie from NH on Wednesday, February 12, 2014

Great optics but small for an OTG google

Reviewed by oteg from low in the high san berdoos on Tuesday, January 7, 2014

If I didn't need/ want OTGs, these seem like they'd be outstanding goggles. Unfortunately, I can't performance qualities for certain' cause this purchase never made it out of my living room. Desiring to see beyond 5' and refusing to wear contacts (in my next report I will discuss phobias), leaves me very OTG dependent. These aren't OTG. Say again, not OTG. OTher reviewers suggested as much, but you know how those snarky product reviewers are: nothing better to do than sit around nit-picking.

Even so, OTG goggles shouldn't, in my vain opinion, smush even small-lensed, low-profile glasses against one's face & then pull said glasses away upon goggle removal, making juggling of said glasses likely & loss too probable. So the search for perfect & perfectly marked-down OTGs continues.

Reviewed by questionsSoMany from Spokane on Friday, December 27, 2013

If you wear slim glasses, these goggles will work. It will still be clunky, and a bit of a hassle, but I was able to ski with little fogging.

Reviewed by bill braskey from South Carolina on Tuesday, May 14, 2013

Don't waste your time with these if you wear a helmet. Otherwise, great product.

Reviewed by Beautypeaks from Utah on Saturday, March 16, 2013

Great goggoes. Get darker with more light. Slightly shift color, but not too noticable. I had wanted neutral color shift and these are OK, but not true neutral. Fit is good, but I have a small head and fit is satisfactory, not perfect. Overall I really like them. Use them for skiing, but would be fine for any wintersports.

Reviewed by CMaz from Boston, MA on Sunday, February 17, 2013

These goggles hit the upper sides of helmet making huge gap between helmet and goggles. Returning them.

Verified Buyer

Reviewed by Jonathon G from Australia on Tuesday, February 12, 2013

The claim of helmet compatibility is a bit of a far stretch. The curved dip at the center of the top edge makes fitting together with a helmet not possible.This leaves a large gap, whilst the outsides push the helmet up. I have two Helmets and this doesn't work with either one.

Will go back to using my Jubo's, even if they are a little scratched.

Would return, but not an option from Australia. Waste of money.

Verified Buyer

Reviewed by Kirkers from Corvallis, OR on Wednesday, January 23, 2013

This is well made, and adjusts very well to facial contours. The band is a bit difficult to adjust on the fly, but holds the goggles very snugly so they do not slip down my nose. I expect the lens will adjust to light as advertised, but it is too dim here in Oregon in January to know for sure! The big problem is that this over-the-glasses (OTG) model just BARELY fit over my rather small glasses. If I had even slightly larger glasses, this would not have worked at all and I would have had to return them. The manufacturer needs to have a design rethink here. My old Scott OTG's fit easily because they are almost a centimeter deeper than this model -- that is, the Scott provided plenty of distance between goggle lens and my glasses. These goggles do not. Maybe it would compromise the fit to redesign the goggles, but I do not see how. In any case, for these to REALLY be OTG for most people, something needs to change.