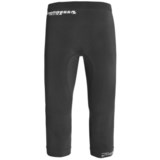 Closeouts. Game changers for athletes looking to push the limits, Zoot Sports' CompressRx Ultra knickers feature muscle-specific, graduated compression that removes lactic acid, reduces swelling and improves muscle stability and blood flow.
Average Rating based on
8
reviews
4.750000
0
5
Verified Buyer

Reviewed by runsalot from CO on Tuesday, May 20, 2014

A good companion or shorter version of the tights. They are all-over compressive, not as muscle specific as I expected from the desription but nonetheless a good product. I like that they are not overly tight across the lower calf edge as are.some capri length compressive knickers.

Verified Buyer

Reviewed by Micah from New Mexico on Wednesday, May 7, 2014

Absolutely great compression tights. These suckers will cut recovery time in half!

Reviewed by Sarah from Gainesville on Saturday, March 29, 2014

I've destroyed three pairs of these wonderful tights. Here are some words of wisdom. They're worth the hassle, trust me.

Regular cold cycle is NOT enough. Hand wash these. in cold water. with mild soap. If they ever accidentally make it into the dryer, they're toast.

DO NOT sit on cement/asphalt in these! Abs on stadium cement = dangerous white seam fraying right down the middle of the buttox.

DO NOT tug from the waistband (or any part!)! These are incredibly FRAGILE. One day, my thumb went straight through the fabric. These require patience and can be a struggle to put on. (pretend like you're putting on hose- but be even more gentle) Zoot recommends "massaging" them upwards. (PS Putting them on straight out of the shower/when you're already sweaty is near impossible)


NOW why they are worth so much effort!


These have great coverage (remain opaque even during RDLs, and make the rear look great!), seaming on the front deters from unaesthetic situations (ladies), they do not show sweat, offer excellent recovery during AND after exercise (my favorite on leg and plyometric days!), take a handful of wears before they even slightly smell, and the ankle bands/waistband stay secure without being constricting (zero rolling).

The only other downside was that little blackhead-like bumps on my legs formed. Probably because they're so tight and I wore them frequently while sweating copiously. A little extra exfoliation TLC chased them away though!

They are by far the BEST compression tights I have found. No other brand comes close. I've ordered a pair of second generation tights from another retailer- I've got my fingers crossed!

Reviewed by MidMom from San Jose on Thursday, September 19, 2013

My son requested some compression pants for recovery after cross country practice. He really likes these. They are well made and fit his thin legs well.
The size chart seems true to size.

Reviewed by Boriquakid7 from Puerto Rico on Thursday, August 15, 2013

The compressRx shorts are the best and only compression shorts in which you actually feel the compression warping your body. These shorts are great for weightlifting and any other sport where explosive power is exerted. As sizing is concern I'm about 5'10.5" and 195 lbs purchased the size 5 fits great
but according to the sizing system on the box I should've gotten a size 4. The sizing goes according to your waist and thigh measurements. Remember to get the most out of compression garments they must feel tight but not restrictive. Thank you Sierra Trading Post for all the great deals on these high quality products you guys rock God Bless.

Reviewed by Sarah from Gainesville on Wednesday, July 10, 2013

Absolutely love these. 23 year old female recreational weight lifter. Gave awesome support (makes my butt look great) and thick enough that you don't have to worry about them being see through. The inner thigh seam pattern is a little odd, but it didn't bother me too much. My only real issue are the back seams. They tend to chafe my bum/back of my thighs, causing pimples. The seams are also coming apart a bit in the back, but to be fair, I usually hoist them up from those points (and Sierra is going to replace them-generous return policy!). I always wear these on leg day and find that I'm much less sore the days after (and I'm more willing to do my HIIT later in the day!). The top comes well over my belly button, and bottoms hit just below mid-shin (thinner areas for around your knees guide placement). I am 5'5.5" with shorter stocky legs, weigh about 174 and felt that the size 3 fit great (I'm generally a size 10 in pants). Looking forward to trying these in the shorts!

Reviewed by CollegiateSprinter from Mission Viejo, CA on Tuesday, May 28, 2013

Bought these for cooler winter and spring mornings, and perhaps cool summer mornings as well. The compression is excellent on these pants, I feel the pants locking in my muscles and giving them the support and compression to perform at a very high level. They are not very well ventilated though, and youd probably not want to wear these in temps above 75. The only thing I've found compression wise for temps that hot are cwx ventilator shorts. Overall a real nice pair of running knickers.

Reviewed by too_cescy from California on Friday, March 29, 2013

I don't know if it's a placebo effect or not but I believe in compression wear. After doing squats in the gym, I wear these knickers to sleep and the soreness is not as bad the next day if I didn't wear them.
I followed the other reviewers advice and size up for sure.