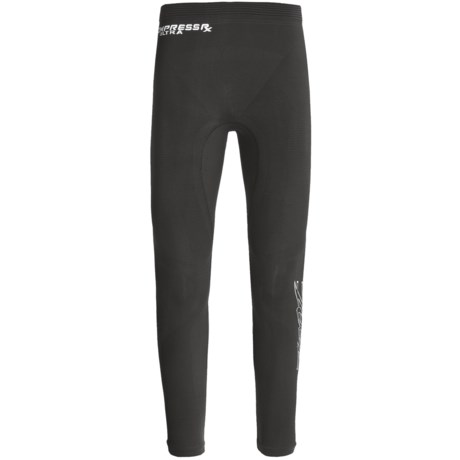 5 STAR minumim
Reviewed by busky from Roseville on Sunday, April 28, 2013
O.K. I have like others tried other compression tights,shorts,knickersetc.. and zoots are the the ones.
Fact; These zoots ultra have been scientificly designed for the sole purpose of "read the overview of product"
Fact; Since these ultras are almost having a doctors perscription and recomendation they need to be carefully ordered.
Fact; I personally cycle over 700 miles a month. I am now 52years old and tow several different bike trailers with over 50 lbs for my Job
Fact; My cramps in my legs became so painful it would bring tears to my eyes and exhaust me in the evening.
Fact; I read one of the reviews and they mentioned that these ultras fixed the problem
Fact; I purchased ultra tights about 7 monyhs ago and the only cramps i have had is one day i actually forgot to wear them.
Fact; I have now purchased not only the tights but 3 pair of ultra shorts and purchasing 2 pair of knickers since they are 75% off as soon as i am done writing this review.
Fact; I am 6-0 225lbs. i wear a 38 waist atheletic cut pants. I have good size thighs and calves. The zoots ultra 5 40-44 waist are the ones i use.
Fact; these ultras will be tight but pls note they are designed to IMPROVE circulation so tight is good but i can see where you can have a wrong size and have the ultras work against you. and pls note these are unisex so that is probably why i use the 5.
Fact; I would only wish that the people that felt these ultras were strangling them would size up and reap the benefits of not only better circulation but elimination of cramps but performance enhancing and better musule recovery.
Most helpful positive reviews
Most helpful negative reviews
Similar items and more information in the following areas: