If you've never been fitted for running shoes before, it's very important that you get to know your arch type and degree of pronation. "We see a lot of injuries resulting from poor shoe choice," says Dr. Thomas Hecker, D.P.M. "Most people don't know what type of running shoe is best for their foot."
Pronation is the term used to describe the normal motion of the foot rolling slightly inward through the foot strike. Pronation is essential to shock absorption and forward propulsion. It's when you overpronate or underpronate that you need to be particular about the running shoe you choose.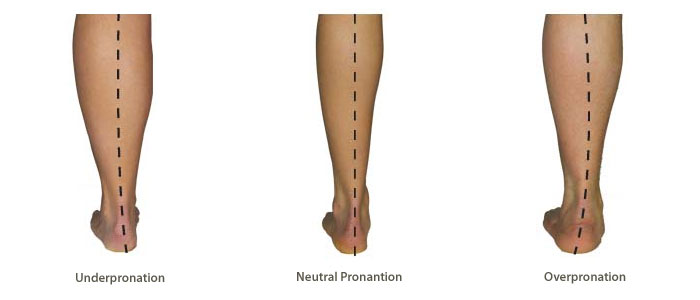 What Kind of Pronator Are You?
The arch of your foot plays a major role in pronation. The three different arch types (normal, flat, and high) correspond to the degree of pronation you're most likely to experience. You can get a good idea of your arch type by doing a Wet Foot Test. Just follow the simple steps below.
· Wet the bottom of your foot
· Step onto a piece of dark construction paper, untreated concrete or any surface that will show an imprint of your foot
· Match your imprint to one of the arch types below to determine your degree of pronation
Note: Another way to determine arch type is to look at the outsoles of your old running shoes, although this method is less reliable than the Wet Foot Test. If the sole is worn equally on both sides, you most likely have a normal arch. If you have a flat arch, the sole will show excessive wear on the inside. A high arch usually produces a sole with noticeable wear on the outside. Be sure to look at the wear pattern on the entire shoe, and not just the heel.
Normal Arch = Neutral Pronation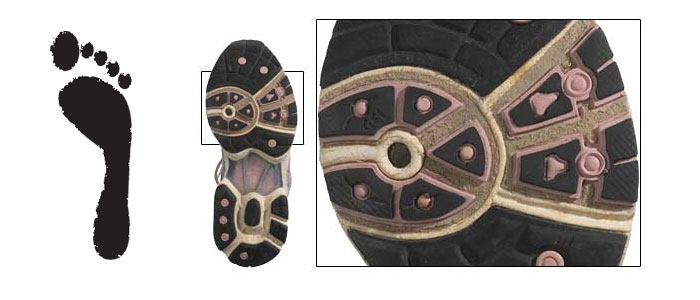 Notice the wear pattern is uniform and centered closer to the middle of the sole. The textured rubber is still present on both sides of the sole.
The most common arch type, the normal arch, leaves a wet print with a flare and a broad band connecting the heel and the forefoot. This foot type is a neutral pronator and rolls inward slightly to absorb shock. If you have a normal arch, you're considered bio-mechanically efficient and don't need motion control features. The best part about having a normal arch is that you have more freedom when picking a running shoe.
The Shoes for You
Cushion running shoes are the most flexible and encourage natural pronation, with added arch support and shock absorption. Alternatively, some neutral runners may prefer Stability Shoes with light support features on the medial side. If you run with a midfoot-strike style, you may prefer minimalist shoes. Avoid motion control shoes.
Flat Arch = Overpronation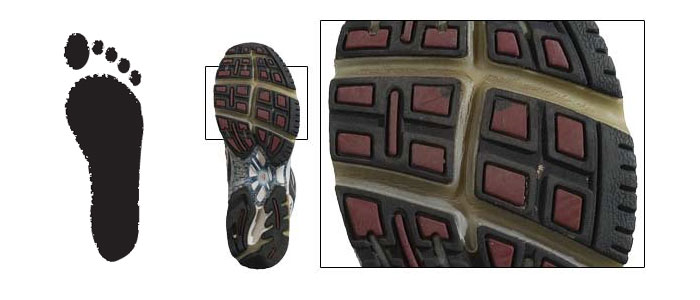 Notice the increased wear and lack of texture on the medial side (inside) as compared to the lateral side (outside), which still has the texture intact.
If you make a complete or nearly complete foot imprint, you have a Flat Arch. This type of foot is commonly associated with overpronation, or an excessive inward roll after heel strike. The flatter the arch, the more support and motion control you need.
The Shoes for You
Ideal for low arches, Stability shoes have light support features and well-cushioned midsoles to help guide mild-to-moderate overpronation. If you have very flat feet, you'll be much better off with Motion Control shoes that incorporate extra stability features on the medial side to help control significant overpronation. Steer clear of cushion shoes and minimal shoes that lack stability features.
High Arch = Underpronation (Supination)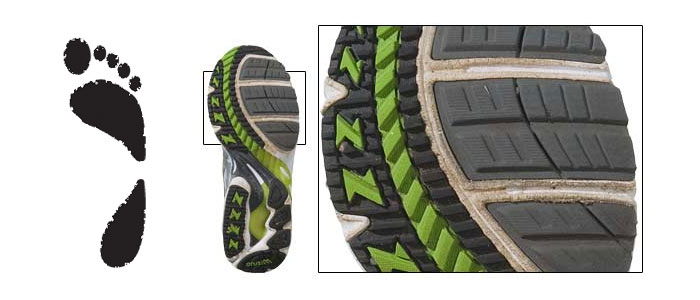 Notice the increased wear on the lateral side (outside) while the medial side (inside) is relatively untouched.
The least common arch type, the High Arch, will produce an imprint showing the heel and forefoot connected by only a thin band. This foot type usually doesn't absorb shock well because it rolls outward or underpronates (also known as supinating).
The Shoes for You
Cushion shoes are the most flexible and encourage pronation. They incorporate extra cushioning, arch support and shock absorption. For even more arch support, you may also consider buying a customized pair of insoles. If you try minimal shoes, be aware this style offers only limited cushioning and light arch support. Avoid Motion Control shoes and Stability shoes.